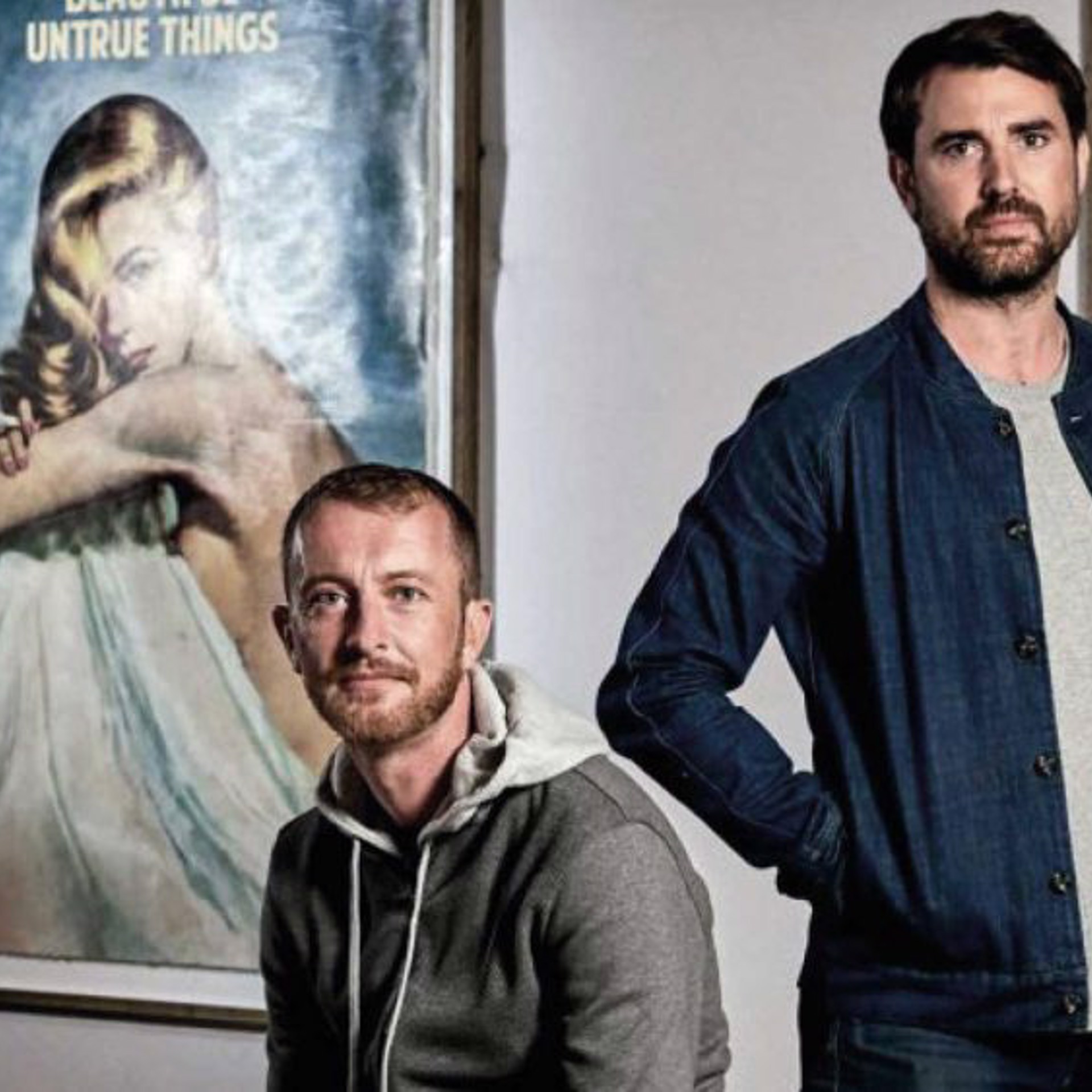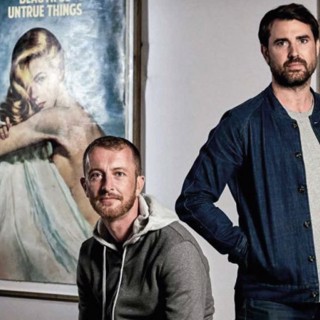 Who are The Connor Brothers?
The Connor Brothers is the pseudonym for British artists James Golding and Mike Snelle. The duo came to prominence in 2012 and for several years maintained their anonymity by using a fictional biography. Their identities were revealed in 2014 in a major feature by Mick Brown in The Telegraph magazine, allowing them to undertake more ambitious projects.
Best known for their Pulp Fiction series the pair are also known for their activist work and their playful hoaxes. In 2014 they created a fictional museum – The Hanbury Collection, which fused truth and fiction in such a way as to render it impossible to work out which exhibits were real and which were not. This obsession with truth and fiction can be seen throughout their work, and is particularly relevant in the current climate of fake news, post-truth and social media obsession.
The Connor Brothers have been amongst the most prominent artistic voices to comment on the refugee crisis. The duo worked for several years in The Jungle refugee camp in Calais building shelters and undertook an international billboard campaign highlighting the plight of displaced people – Refuchic. Closely associated with the Russian activist group Pussy Riot, The Connor Brothers produced their 2015 refugee themed theatrical performance at Banksy's Dismaland. More recently they have teamed up with Professor Green and the mental health charity CALM to raise funds and awareness about the UK's epidemic of male depression and suicide.
The Connor Brothers have exhibited internationally from New York, Sydney and Dubai to London, Hong Kong and Berlin. Their work frequently appears at major auction houses where a record price was achieved in 2016. Works can also be found in major public and private collections including The Victoria and Albert Museum, The Penguin Collection and both the Omar Koch and Niarchos Collections.
Many collectors have chosen to buy The Connor Brothers art at various fairs in London as well as sell-out shows at galleries in Los Angeles and Sydney. They have made and sold more than 100 artworks in total – but who are they?
According to their website, twins Franklyn and Brendan Connor were brought up within a secretive Christian cult called 'The Family.' Along with other children, including the actors River and Joaquin Phoenix, they were deprived of access to mainstream media from outside the commune.
When the twins ran away at sixteen and settled in Brooklyn, New York, they were initially overwhelmed by the outside world, but felt an insatiable curiosity and remarkable appetite to learn. They would share new discovery with one another via notebooks and sketchpads, making art together in a process they described as 'trying to make sense of the world.'
The reality of The Connor Brothers art
In reality however, The Connor Brothers are Mike Snelle and James Golding from London. Artists working under pseudonyms is nothing new, particularly in the world of street art – just take Banksy as an example. But why was The Connor Brothers' art created under the same conditions of anonymity?
In fact, Snelle and Golding really had begun to work together as a form of therapy, inventing The Connor Brothers as a cover to protect themselves from public exposure. They eventually chose to break cover from their detailed disguise once their work saw widespread success.
Snelle argues that this is the paradox of art. While artifice is often the best way to depict reality, fiction can also be the best way to challenge conventional concepts of the truth.
"The Connor Brothers work explores the boundary between truth and fiction, and raises questions about how we construct meaning from experience," says Hubert Weinstein, critic and author of After Post Post Modernism.
Why invest in The Connor Brothers
Investors would do well to buy The Connor Brothers art and collect these highly sought-after pieces.
One work by The Connor Brothers, 'You'll Call Won't You,' made £5,250 at a Christie's auction in September 2013. Shortly after in March 2014, London auction house Bonhams featured The Connor Brothers' 'Thrilling News' alongside works by established names such as Damien Hirst and Banksy, and the piece sold for £9,375 – £3,500 over the estimate.
With prices still affordable but swiftly increasing, now is the perfect time to invest in The Connor Brothers and enjoy their witty and irreverent work in your home. Pay us a visit at Maddox Gallery in Mayfair or Notting Hill to find out more.
SELECTED COLLECTIONS
The Victoria & Albert Museum, London
The Penguin Books Art Collection
The Niarchos Collection
The Omer Koc Collection
SOLO EXHIBITIONS
2017
June 2017 / All My Life I've Been A Liar / Nanda Hobbs Gallery / Sydney / Australia
May 25 – 28 / Labyrinth of Lies / Venet Haus Gallery / Berlin / Germany
April 2017 / Beautiful Untrue Things / Visconti Fine Art / Serbia
2016
23 November – 23 December / Saints and Sinners / Cuadro Gallery, Dubai
2 November – 12 December / Saints and Sinners / Cat Street Gallery, Hong Kong
13 – 15 May / TEDx HK Talks / Hong Kong
14 April – 16 June 2016/ 'This is a lie', solo exhibition / Venet Haus Galerie / Neu – Ulm, Germany
2015
13 November – 6 December 2015 / So It Goes / Hang Up Gallery / London
4 May – 15 May 2015 / 'All This Happened' / Nanda Hobbs Gallery / Sydney, Australia
2014
7 November – 29 November 2014 / 'Curiosities From The Hanbury Collection' / Pertwee, Anderson & Gold Gallery / London, England 20 March – 5 April 2014 / 'True Romance' / Nanda Hobbs Gallery / Sydney, Australia 13 – 17 Feb 2014 / 'The Anatomy of Melancholy' / The House of St Barnabas, London, England
2013
25 November – 15 December 2013 / 'Dr.Viktor. Schroeder' / CIRCA Gallery / Johannesburg, SA
21 November – 5 December 2013 / 'True Love Stories' / Guy Hepner Gallery / Los Angeles, USA 21
June – 4 July 2013 / 'True Love Stories' / Pertwee Anderson & Gold Gallery / London, England
SELECTED PRESS
2017
15 June 2017 / The Daily Telegraph Australia / Brothers in Art and Fiction / Elizabeth Fortescue
2 May 2017 / The Telegraph / Where art and literacy collide: how Penguin Random House built the most interesting corporate art collection in Britain / Colin Gleadell
19 January 2017 / FAD Magazine / 7 Favourites from London Art Fair
2016
1 April 2016 / The Independent / April Fools Day / Connor Brothers collaborate with The Independent for an April Fool's prank / David Andrews UK
1 April 2016 / The Independent / A good hoax can be a thing of unsettling beauty / Mike Snelle
26 Jan 2016 / The Telegraph / number crunching at Christies / Colin Gleadell
22 Jan 2016 / Artlyst / London Art Fair captures the middle market / UK
20 Jan 2016 / The Independent / duped by Lord Byron's Bong / Nick Clarke UK
2015
06 Dec 2015 / Wall Street International / 'so it goes' / USA
13 Nov 2015 / The Evening Standard / Pussy Riot backs artists / Anna Davis UK
26 Sep 2015 / Rolling Stone / Banksy, De La Soul / Daniel Kreps USA
25 Sep 2015 / Vice magazine / Pussy Riot performing at Banksy's Dismaland / UK
02 Sep 2015 / The Evening Standard / Connor Brothers sell art to buy winter clothes for the refugees / Anna Davis / UK
25 Sep 2015 / The Guardian / Dismaland closure leaves Banksy shaped hole / Hannah Ellis- Peterson / UK
23 July 2015 / BBC FOUR Television / Wondrous Obsessions: The Cabinet of Curiosities / Professor Nandini Das / London UK
26 June 2015 / Another magazine / I tried to drown my sorrows / Daisy Woodward / UK
15 May 2015 / Sunrise Channel 7 Television / Art mystery revealed / Sydney Aus.
08 May 2015 / Sydney Morning Herald / The extraordinary case of The Connor Brothers / Sydney
09 Feb 2015 / The Evening Standard / Appeal will save lives / Anna Davis / UK
2014
01 Dec 2014 / The Independent / Homeless Veterans Appeal / UK
20 Nov 2014 / The Independent / The Connor Brother's Museum of Curiosity re opens in London / Daisy Wyatt / UK
11 Oct 2014 / The Telegraph / The Connor Brothers: an exclusive interview / Mick Brown / UK
2013
03 Dec 2013 / Wall Street International Magazine / The Connor Brothers: True Love Stories / USA
11 Nov 2013 / Los Angeles Times / Culture Monster / Deborah Vankin / USA
20 Nov 2013 / Juxtapoz Magazine / The Connor Brothers / USA
20 Nov 2013 / The Huffington Post /The Connor Brothers Come Out of the Cult and Into the Art Scene / USA
Read More