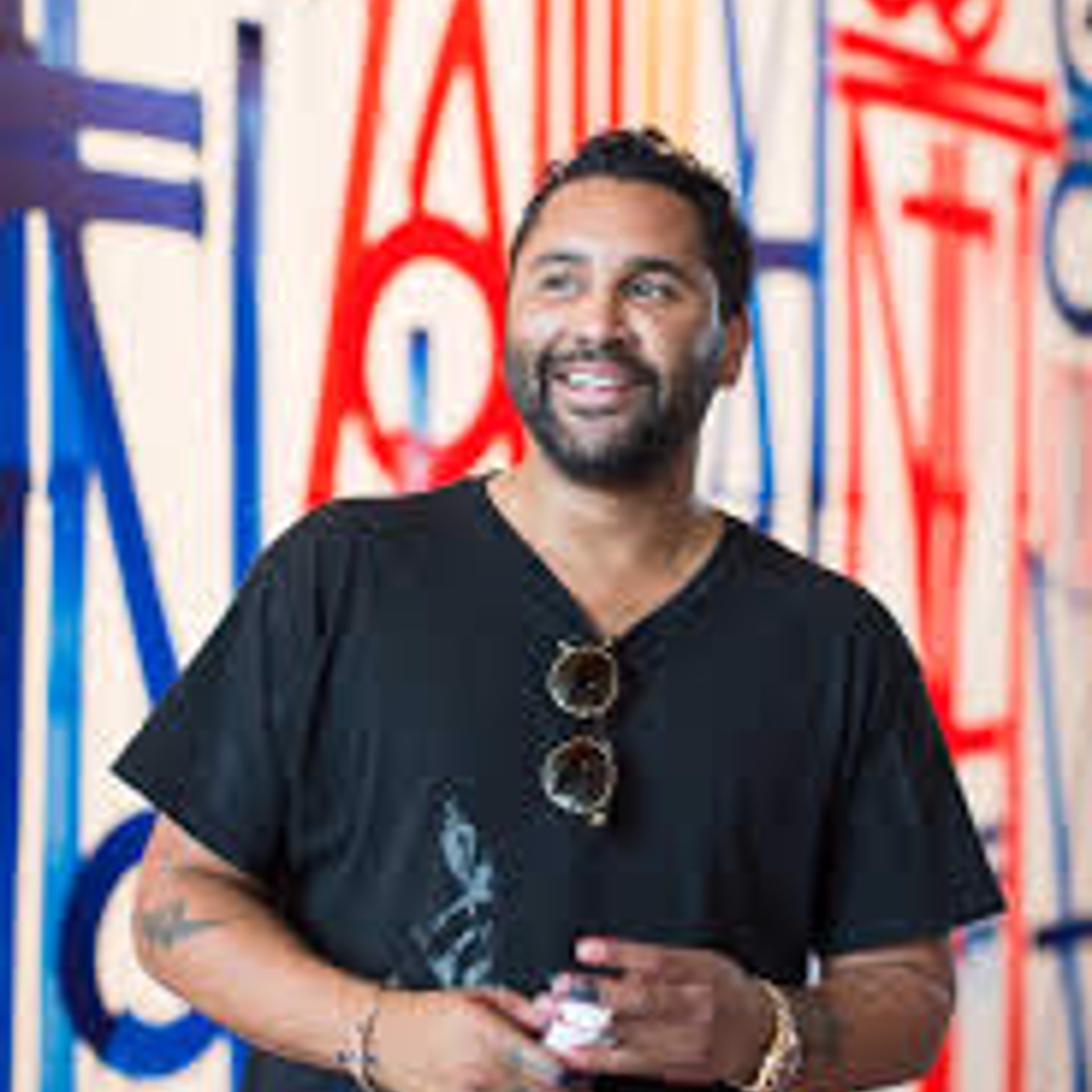 Marquis Lewis, a.k.a - RETNA was born in Los Angeles, from El Salvadorian, Cherokee, Spanish, and African American bloodlines. He chose the moniker "RETNA" from the lyrics to a Wu-Tang Clan song.
Lewis joined the buzzing graffiti scene of the city as a teenager, developing his now signature calligraphic style that features a keen attention to detail and skillful layering. This American street artist became known for his unique typography and letterforms where each block of text is a sophisticated system of script, culled from hieroglyphs, calligraphy and illuminated lettering. With influences ranging from Arabic, Egyptian, Hebrew, Old English, and Native American mythologies, RETNA's unique vocabulary communicates a particular narrative.
In his cryptic words, letters, and messages, he reflects aspects of a harsh reality of urban life. Yet he is in tune to a sophisticated and metaphysical connectedness that draws inspiration from poignant relevance of historical cannons. RETNA employs ancient totemic symbologies as a baseline, overlaid with rhythms he perceives as compartmentalized sequences of letters to hypothetically vocalize significances deemed important enough to manifest into works of art.
The artist uses a paintbrush in addition to a spray-cans to paint intricate lines and give the finished work an intuitive and dynamic, yet precisely composed effect. Among his eclectic range of influences for his contemporary text-based works, RETNA cites Renaissance imagery, medieval manuscripts, Art Nouveau, and 20th century urban artists such as Jean-Michel Basquiat and Keith Haring. With a practice rooted in varied typographic forms, RETNA works from a hybrid alphabet consisting of Egyptian hieroglyphs, Arabic calligraphy to Blackletter, making the content of his artworks indecipherable and enigmatic. He creates unique pictographic landscapes that celebrates the idea of multiculturalism and interconnection, while exploring the possibilities of conceptual meaning within the image, revealing new ways of understanding, and perceiving visual codes.
Since emerging on the scene, he has been renowned for many publicly and privately commissioned murals in New York, Miami, Mexico City and Los Angeles, as well as for numerous collaborations with famous brands such as Louis Vuitton, Nike and Vista Jet. His gradual transition into the contemporary art world was marked by the group exhibition Art in the Streets, hosted by the LA Museum of Contemporary Art in 2011. This was followed by an invitation by the same museum in 2013 for the artist to create an installation for the show "RETNA: Para mi gente".
Another notable exhibition was The Future of the Past: Mummies and Medicine (2016) at the San Francisco Legion of Honor, showcasing a large-scale installation of RETNA's calligraphic paintings, contextualized within ancient Egyptian culture and spirituality. His artwork was featured as the album cover of Justin Bieber's Purpose, released in 2015. In 2016 and 2017, he was the artistic designer for the reimagined production of the famous opera AIDA at the San Francisco and Washington National Opera houses.
RETNA continues to be amongst the most prolific and successful graffiti artists working today, as well as one of the most coveted. His artworks continue to fetch high prices at international auction houses.
Read More